*I received one or more products listed below for free in exchange for a review. Regardless all opinions are my own and I only recommend products I feel would benefit my readers.
Skip Hop Dog Backpack Review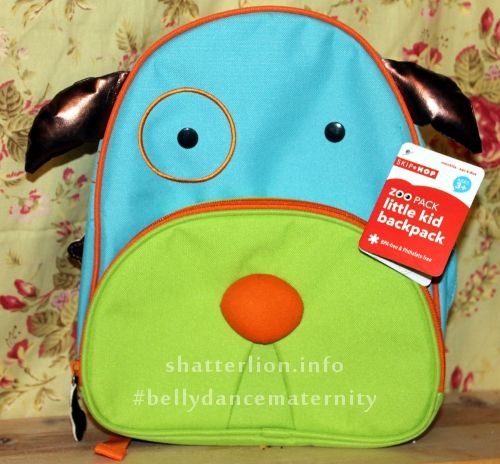 The Skip Hop Dog Backpack is absolutely adorable with it's whimsical dog ears, eyes and nose and vibrant colors. It's the perfect size for my soon-to-be three year old and he loves wearing it. He hasn't uses it other than wearing it around the house so far. Soon he'll use it to pack his stuff for when he spends weekends with his Daddy. 🙂 He can't wait for that either! While an 8.5″ x 11″ folder won't fit in it for school, it's the perfect bag for traveling, sleep overs and such. Click here to view "What's New" at BellyDanceMaternity!
Skip Hop Word of the Day
Sunday –  BellyDanceMaternity
Monday – Skip Hop
Tuesday – Zoo Backpacks
Wednesday – Dog ears
Thursday – Whimsical
Friday – Sleepovers are fun!
Saturday – Be Happy
Enter the giveaway here! It runs from Sep 2nd, 2014 01:00 am CST – Sep 16th, 2014 11:00 pm CST.
I'd also like to add one small note – so why do you want to purchase Skip Hop from BellyDanceMaternity when you can get it elsewhere? I'll tell you why. I've noticed other sites, even reputable ones such as Amazon, selling fakes! The Skip Hop backpack I received is genuine, high-quality and came with the Skip-Hop tag!